Hardwood Flooring Services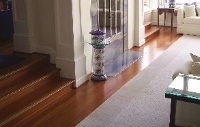 Maintenance is the key to preserving the beauty of your floor. Vacuuming or sweeping as needed, cleaning with recommended products and using felt pads on furniture feet all help to extend the life of your floor. In addition it is optimal for your flooring to keep your home's temperature between 68 and 78 degrees and the humidity between 30% to 50%.
As your floor begins to show wear, an additional coat of finish can be applied without having to resand your floors. This is usually a one day process that is virtually dust free. Adding a coat of finish restores sheen, hides surface scratches and delays the need for refinishing. We usually recommend recoating your floor every 3 to 5 years.
We can repair and replace damaged flooring and patch areas if necessary when you are remodeling. We will work with you to match your existing species, grade and style of flooring to ensure the most seamless look possible.
Request More Info