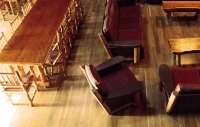 Grading & Variation
All wood flooring has some variation between boards. The amount of variation depends on many factors including the species of wood used, the type of saw cut and the grade of flooring used. Some species have a small amount of variation, while others may have very dark brown to almost white boards within the same grade. Some species have prominent grain lines while others have very little. Some grades of flooring are more rustic and may contain knots. Your flooring will meet the specifications of the proposal provided to you. Variation in between boards is a natural characteristic of wood.
Stability
All wood floors expand and contract seasonally. Flooring shrinks in the winter when homes have less humidity due to use of heating systems. This shrinkage can cause small cracks between individual boards. These cracks are a normal property of wood flooring and do not affect the performance of the flooring. In the summer, humidity inside homes increases and flooring swells. Excessive moisture, such as leaks from refrigerators or dishwashers can cause flooring to "buckle". We do our best to minimize expansion and contraction by acclimating flooring prior to installation. The only way to keep a floor absolutely stable would be to keep the temperature and humidity in the home exactly the same at all times and in most cases this is impractical. Please note we cannot warranty against changes resulting from moisture and/or heating conditions.
Color Changes
Color variability is the range of color within boards of a particular species of wood. Some species are fairly uniform, while others vary widely in color. In addition to this color range when flooring is new, wood flooring changes in color over time. This color change can be from exposure to sunlight or the color can change without sunlight as the wood oxidizes with age.
If you have any questions about your particular species of flooring and it's grading, stability or color fastness, please check with us prior to your installation.
Request More Info